THE PERFECT NEVER-ENDING ENTERTAINMENT FOR YOUR BABY!
The dancing cactus doll can shine, twist, or learn to record like a parrot. It is a very cute interactive toy, which is very suitable for children, friends, colleagues classmates and pets
What Makes Our Baby Cactus so Amazing?
Cute and fun cactus shaped plush toy can dance, sing, parrot, move, turn around. When the music is playing, the cheeks flicker slightly.
Its good for early education.
Pick from over three different songs: Our battery-operated dancing cactus plant toy can dance with the rhythm, sings 120 English songs, bringing your child the happy time in a lifetime.
Unrivaled sound quality: The Dancing Cactus is implemented with a state-of-the-art sound system that delivers remarkably high-quality sounds.
360 Degree Grooving: Dancing Cactus can rotate 360 degrees while doing all varieties of fashionable moves.
Durable: The firm material used for the dancing cactus guarantees a long-lasting experience.
Easy to Clean: Knitted plush made, soft material, comfortable, safe. Wipe off the dust with a damp cloth for cleanup.
The soft appearance of the plush filling is squeezed from the outside, which perfectly stimulates the imagination of children and stimulates creativity.
Best Gift For Babies & Home Decoration: Giving gifts can get hard. But you can't go wrong with gifting this amazing Dancing Cactus. It's a perfect accessory for home decoration, party, good for early childhood education.
How to use Our Baby Cactus?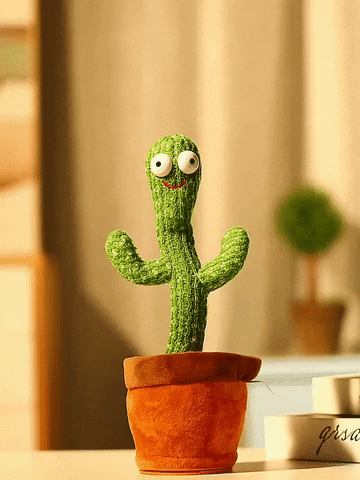 Insert the Double-A batteries, press the button, and that's it.
The batteries last for days, so don't worry about them running out anytime soon!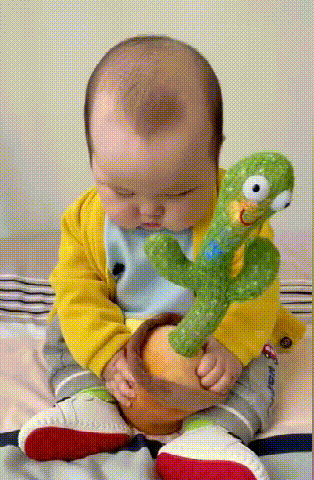 PACKAGE INCLUDES
1x Original Dancing Cactus
12,5″ x 6″ x 4″ Net Size
Our Guarantee
We believe we make some of the world's most innovative products and we back this up with a risk-free and unwavering 30-day guarantee. Should you be dissatisfied, for any reason, we will do what we can to ensure that you are 100% satisfied.